Dye-Sublimation
Made To Order Custom Dye Sublimated T-Shirts & Apparel Printing
Promo Planet offers Dye-sublimation Printing on polyester t-shirts, table covers, name badges, sportswear, flags, mouse pads, mugs, and many other substrates via our Giant press and large format printer which can print extremely large layouts and t-shirt sizes at a max size of 30"x40" inches! Dye-sublimation printing is a great method of printing for an all over print on t-shirts!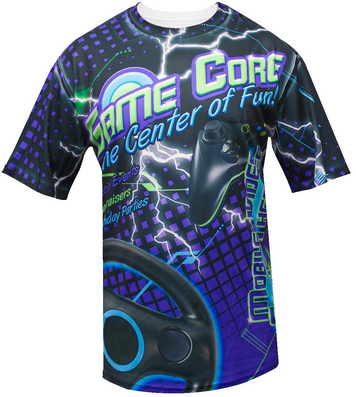 What is Dye-sublimation Printing? Dye-sublimation printing is used to print on polyester based materials or fabrics with special formulated inks that has pigment suspended in a liquid solvent (water). The image is printed in reverse onto a special poly coated substrate. The printed substrate is then transferred onto the polyester fabric or item via heat and pressure. During the transfer process the dye turns into a gas and penetrates the fabric and then solidifies into the fibers or substrate. The fabric or other substrate is now permanently dyed. The image can be washed without damaging the quality of the image.
.All substrates for dye-sublimation shirts or accessories start out white. The special formulated dye-sublimation inks are transparent which eliminates the use of all other t-shirt or substrate color. Since the dye-sublimation inks adhere to polyester; cotton t-shirts will not work with this printing process. The t-shirt or substrate must be polyester. Some polyester blends will work (some are better than others) but the outcome of the print will appear fade and/or vintage looking and Promo Planet highly recommends not to use anything but 100% polyester.
.Dye-sublimation is also another ideal method of printing for short production runs or printing that requires full color photographic copy with high image resolution. The dye-sublimation inks are in CMYK (Cyan, Magenta, Yellow, and Black) also similar to 4-color process printing. Dye-sublimation printing can be used as a cost effective, fast turnaround alternative solution to screen printing. Due to the 4 color process (CMYK) of digital printing, PMS matching will not be exact or guaranteed.
See Below For Shirts to Dye-Sublimate. Don't see what you are looking for? Contact us and we can help!
Have Questions? Give us a call: 817-529-9909
.Some advantages of dye-sublimation printing over other methods of printing:
Images will not peel or fade and are permanent
Dye has a very soft hand feel; does not have build up on the fabric
Colors are very vibrant because of the transparent dye bonding to the fibers
Image can be printed all over the entire item all the way to the edge of the substrate
.Disadvantages of dye-sublimation printing:
Dye-sublimation is Super Cool but it does not come without it problems/issues and imperfections. Imperfection Information Sheet
Shade variance in the print color can happen from shirt to shirt and from order to order and will appear like it is faded out or has light spots/areas in the print.
Any creases in the apparel during printing will leave blank creases/spots on aftermarket textiles
Slight imperfections in the look and registration from the front to the back (may not line up perfectly) but is part of the manufacturing process; it may enhance the design.
Blemishes on common areas, usually dark colors gasing onto lighter colors and will appear as spots and/or smears; smudges
White seams in common areas like arms, shoulders & down the sides (but not limited to those areas).
Channeling in common areas like neck and shoulders (but not limited to those areas).
The printer speed can be slow depending on the size of the artwork file that is sent to the machine.
Additional production materials may be needed for the job
The substrate has to be white and polyester to get a great outcome
Dye-sublimation Process

The artwork will be reviewed by Promo Planet's graphics department to make sure it meets the minimum dpi of at least 300 dpi at the size of print as well as making sure the proper file types are used.

File requirements: Original art file format is always the best result. Higher resolution 300 dpi (at full size) is best. File types: transparent .png, .tiff, .jpg, .psd, .ai, or .eps files are recommended.

Promo Planet's award winning graphics team will also check the elements within the artwork to ensure each color in the design will print as close as possible to the original (PMS Matching is not available with the Dye-sublimation printing process) image sent and may make adjustments to ensure print accuracy before going into production.

Promo Planet's Dye-sublimation Machine Operator will complete a pre-production test print before the job goes into production.

(See "What is Dye-sublimation?" where it explains the process above).

Once the job is complete the garments are counted again, sorted, stacked, and boxed for shipping or pickup.
Have Questions? Give us a call: 817-529-9909